West U doc paints inner beauty of the kidney
By Valerie Sweeten | June 25, 2013
 HOUSTON CHRONICLE
June 27th. 2013
"Faces in the Crowd"
Sugar Land artist to exhibit in Germany
by Megan Mattingly-Arthur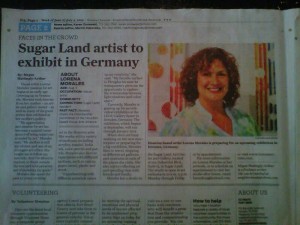 —————
OUTSMART MAGAZINE
Houston Area Events – June
[ 0 ] June 1, 2013 | Marene Gustin
HOT TICKET
'Through Colors'
Not 'True' Colors, although we do love Cyndi Lauper.
No, this is Through Colors by Kelyne Reis. It's a painting exhibit of big bold colors by Brazilian artist Reis going on now through July 7 at Galleria Regina at 1716 Richmond Avenue.
Reis, born in Brazil, lived in Germany studying at the Art Institute of the University of Hannover, before moving to Houston in 2009. Her preferred media is acrylic on canvas using big, bold swaths of vivid color.
"Influences of the German Bauhaus movement and of Pop Art can be seen in my works," Reis says, "in which I play with bold colors, graphic shapes, and flat, clean surfaces, telling stories in a very simple way."
And speak her paintings do.
"Color is the voice of Kelyne's paintings," says Arthur Turner, artist and instructor at Glassell School of Art at the Museum of Fine Arts, Houston. "There is a 'pop' aspect to these works. They are also extremely optical. Even though they are 'cool' in their artistic stance, they are painted with a great passion. The paintings are like experiencing Batman, Spiderman, and Joseph Albers all in one big gestalt. Even the small works have a big visual impact."
————-
HOUSTON PRESS Blog ArtAtack
By Meredith Deliso Wed., Jun. 5 2013
Graffiti Art in Action at GreenStreet feat. Kelyne Reis
"…It was a sweaty 95 degrees Monday, the kind of Houston heat where you're dripping just standing in place. But that didn't stop three artists from going up and down ladders working on a new outdoor mural at GreenStreet, formerly known as the Houston Pavilions."
"…GreenStreet's four-panel mural takes inspiration from the "Houston Is Inspired" marketing campaign, down to four of the words used in the campaign — hip, tasty, funky and inspired. He's joined by three other artists to create a mural based on these keywords. Gonzo is tackling "tasty," while Gabriel Prusmack has "hip," Kelyne Reis "funky" and Wiley Robertson "inspired."
…Reis isn't working in aerosol. The visual artist is creating her "funky" mural in acrylic with the help of artist friends Tania Botelho and Lorena Morales, taking inspiration from GreenStreet's circular pedestrian walkway above Fannin."My work is very flat and colorful," said Reis, who has a solo show currently up at Galeria Regina. "It's not difficult to translate into graffiti."
———–
HOUSTON  MAGAZINE, July 2012
Michael Mistric Exhibit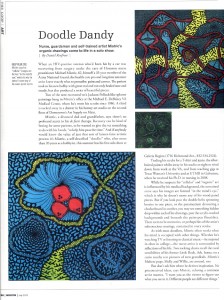 ————–
HOUSTON  MAGAZINE, February 2012
Susan Spjut Exhibit